ALTUN HA RUINS
The true ancient name is unknown and "Altun Ha" is a Mayan translation of the nearby village named "Rock stone Pond."
Even though Altun Ha is small as compared to other ruins in the region, the extent to which the site has been cleared and restored makes it easy to imagine its past glory and wealth as a major ceremonial center. Plaza A is a large grassy area, surrounded on all sides by pyramids and is adjoined by Plaza B which contains the largest structure on the site, the Temple of the Masonry Altars, which rises 54 ft. above the plaza.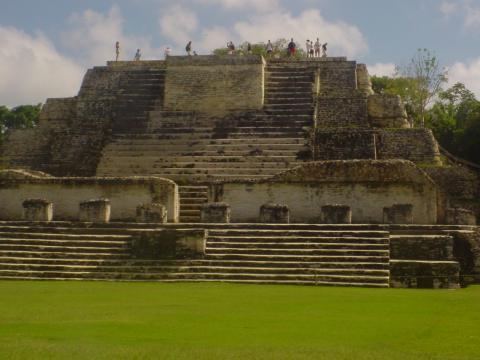 Tour Details
2 persons: $85.00 per/ person
4 per/ person: 65.00 per/ person
Price may vary depending on the number of persons booking.
This tour is designed to last approximately 4.5 hours. It include a 50 minutes drive from Belize City to the site. As we drive to the site we will be narrating The History Of Belize. When we arrive at the site we will have a short restroom break. After the break we start the tour of the site. The tour of the site last an hour to an hour and a half. Whilst doing the tour of the site we will do presentations on Medicinal Plants, Indian History, and Altun Ha History. After the tour of the site we drive through the country side to Belize City.
We also do a combination of the Baboon Sanctuary and Ruins Of Altun Ha. Thiis tour is designed to last 5 hours to 5.5 hour.